270 pages or over 5 hours of audio + downloadable content
Purchased the book and looking for the downloads? Register your book here:
Managed Services
in a Month
Managed Services in a Month
3rd Edition - January 2018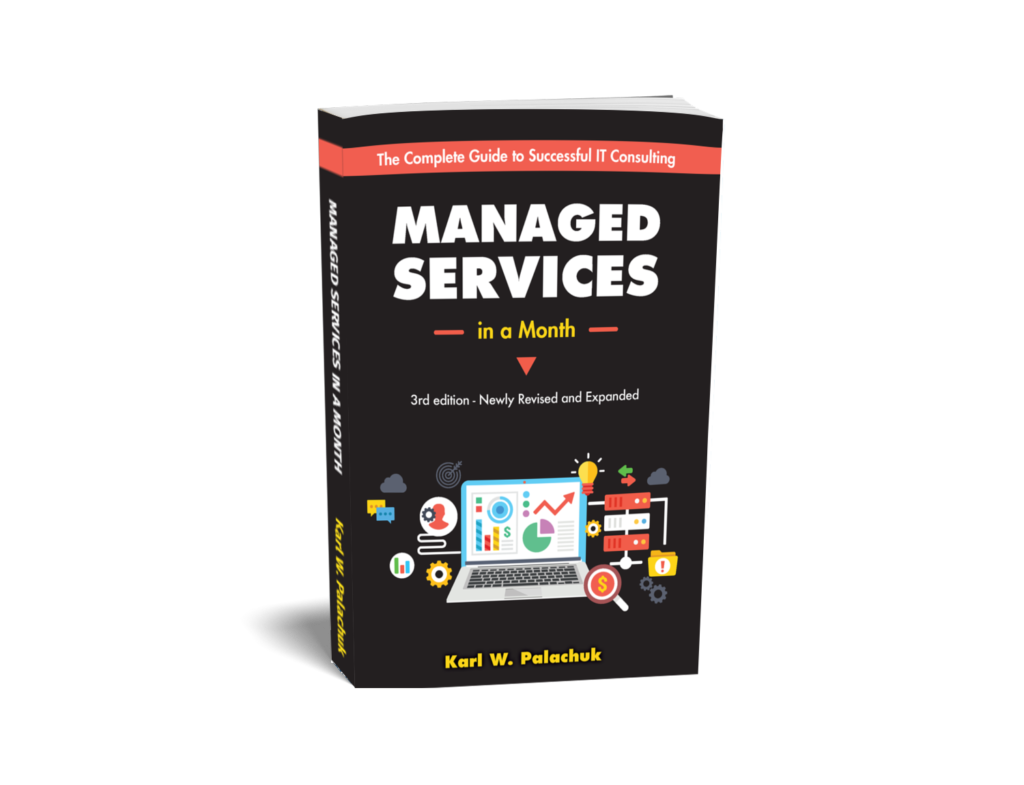 OR join the Small Biz Thoughts Community and get it for free!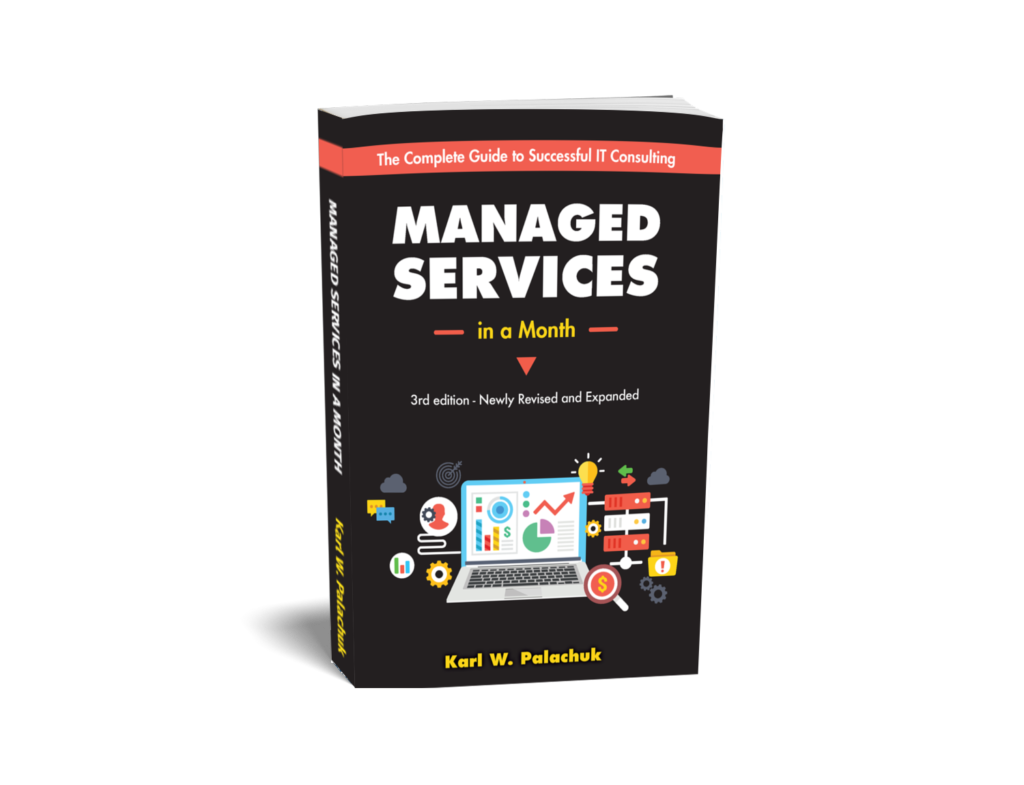 Paperback   |   E-Book   |   Audio Book   |   Kindle
OR join the Small Biz Thoughts Community and get it for free!
Build a Successful IT Services Business in 30 Days!
The ultimate do-it-now guide to getting started in Managed Services.
Whether you're a NEW Computer Consultant or an experienced technician making the move to managed services, this is the perfect book for you!
The book includes step-by-step instructions for creating service offerings, reformulat-ing your business, creating service agreements, and more!
Should You Become a Computer Consultant?
It's not too late! YOU can get into Managed Services — in a month.
All you need is a little guidance and how-to instruction. As Karl says, lots of people have done this and you can, too.
Even if you decide not to become an MSP (managed service provider), this book is full of great advice about taking stock of your business, "weeding your client garden," adjusting your prices, and other best practices for the SMB Consultant.
This book is guaranteed to improve your business. Thousands of people have taken the challenge and become MSPs in a month — and so can you!
THIS BOOK IS
GUARANTEED
TO IMPROVE YOUR BUSINESS
View list of associated downloads
Thanks for the great book. It has really been helpful. We have spent the last year getting our tools up to speed, phone systems in place and a number of other things we didn't have or added. We are in the finalization of things when we found your book. So we took a few steps backward and it has been really helpful. We are now also reading
Service Agreements for SMB Consultants
. With a few more ready to order. I feel like we looked forever and just never found these resources. I am very grateful for these book recommendations and the ideas in your book.
Managed Services in a Month is a easy read, giving practical guidance on how to convert an existing break-fix business into a managed services one. Karl walks you through a series of exercises to build, package, sell, and convert customers. His down-to-earth style of writing is like having a consultant working personally with you. This is a great first step to getting into Managed Services.
Get off your butt and get this book I have listened to the audiobook 3 times. Karl takes the difficult task of getting started in managed services (successfully) and breaks it down into clear concise steps that ANYONE can follow. Yes there is a lot of work but you should definately buy the rest of Karl's books, Network Documentation Workbook, Network Migration Workbook and the Service Agreement book.
I read this book in conjunction with "Service Agreements for SMB Consultants." Until recently I had only done "break-fix" work. I needed a guide to to help me get clearer on what I was offering and how to present it to the client. The material in this book helped me do just that. It contains invaluable advice on deciding what to offer, and how to communicate it to the client in a way that will increase the chances that the outcome will be successful. The information is broken down in a way that is very manageable, rather than overwhelming. I was a little nervous about the undertaking of putting together a package to present to a prospective client. It felt much more manageable and doable with this book as a guide. After my first sit-down with a prospective managed service client, the client commented on the quality of the presentation. They signed a contract a week later. Of course your mileage may vary, but I feel the help I got from this book was invaluable in steering me in the right direction.
First of all, a word about the author, Karl Palachuk, here is a business man who has transferred his years of experience in the computer consulting field into VERY topical books on the subject. He is success oriented, and that is communicated in his titles by not concentrating only on the minutia we tend to immerse in (technology), but into the "lessons learned" and business systems that transform a business. You will do well by following the advice of Karl not only in this book, but his other titles -- particularly, in compliment to this book, "Service Agreements for SMB Consultants." My own company's service agreement was completed after purchasing that book. 1 of 2
Now, in regard to this title, the focus here is not simply on the technology. The focus is on building a business system that is not only repeatable, but also profitable, minimizing the effort it takes to deliver service. The benefit is not all for the service provider, though. Benefits are equally delivered to the client/customer. Purchase this book, and do so with Karl's "Service Agreements for SMB Consultants" and you'll have enough of an education to transform your I.T. support business. 2 of 2
Money well spent. I keep referring back to this book, it is very hands on and applicable to the real world. So many other books are written by obviously very intelligent and successful people, but 50% of it applies to my business, and the other 50% is interesting but just doesn't fit my organization. While reading Karl's book, I get the feeling that he's been where I have been, and can help me move forward and improve my business. I read a lot of technical material but Karl's stuff is very process oriented, which is where I need the most help!
This book is filled with great tips and a lot of spot on strategy. It is really all about doing the kind of business you want and eliminating the ups and downs. Karl's step by step approach will get you there, and quickly.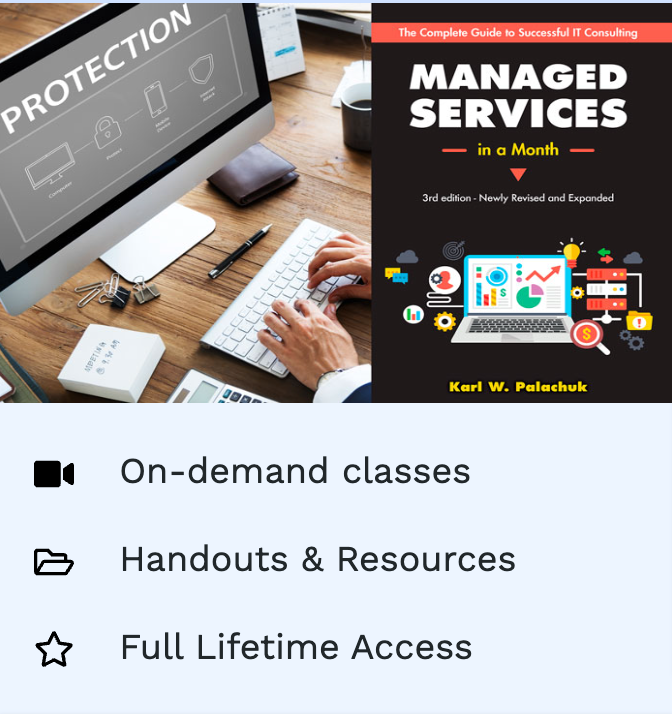 TAKE THE CLASS | IT Service Provider University
Managed Services in a Month: Applying the Book
Whether you're a new "Computer Consultant" or an experienced Managed Service Provider, you need to create successful processes that will propel your company forward. Nothing is more critical to making profit than having the right processes and procedures in place!
This course is designed to walk you through the process outlined in the book. AND your registration includes a free copy of the book in e-format.
Karl W. Palachuk has been an IT Consultant since 1995 and is one of the pioneers of the managed services business model. He is the author of 19 books, most of which are also available as audio books.
He is the host of the SMB Community Podcast and maintains four blogs, including Small Biz Thoughts and Relax Focus Succeed. Karl has owned several small businesses, including two very successful Managed Service companies in Sacramento, CA.
He received his first Microsoft certification in 1995 and his first MCSE in 1999. He was an active, hands-on Systems Engineer until January of 2017.
Karl has been a featured speaker at conferences and seminars over the last ten years. He is a Microsoft Certified Systems Engineer with a Bachelor's Degree from Gonzaga University and a Master's Degree from The University of Michigan. He is also a Microsoft Small Business Specialist, and is an original member of Microsoft's Small Business Specialist Advisory Panel.
Looking for the associated downloads?
Register your book and they'll be sent to you as soon as your request is processed. 
Copyright © 2013-2023Great Little Book Publishing Co., Inc.
As an Amazon Associate, we earn from qualifying purchases.